Pipko Fanfare
Bio
Pipko Fanfare is a transgender woman in her mid 30s who makes music about trans issues and life in the closet.
Her debut album Finding My Voice is an experimental/alternative rock concept album that takes the listener on a journey through musical styles from punk to grunge to blues to chiptune. Everything was recorded, mixed, and mastered in her home studio.
Both it and her follow-up single Double Agent were written while she was still closeted in real life, and feature highly digitally effected and artificially feminized vocals over raw rock guitars.
Now she is out to the world and working on her transition – as well as new music and new projects! Her creative energy nowadays is mostly focused on another project, "Maru Island" – an indie video game where she is both lead programmer and composing an orchestral soundtrack in a high fantasy style. Everything is still early in development, but the current OST is available on Fanfare Games's Bandcamp.
---
Gear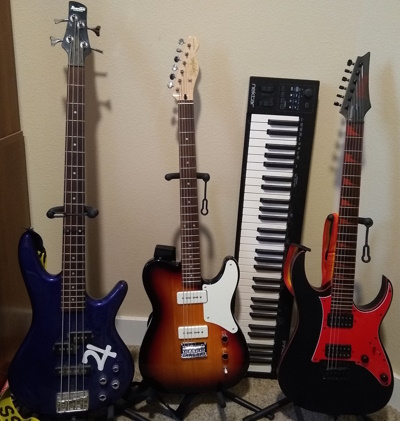 Pipko has used multiple guitars over the years. Finding My Voice was recorded with a (dirt) cheap strat-style guitar simply called "The Sonora" after its manufacturer. It is the black guitar with white pickguard shown in the art above. Unfortunately, this guitar wasn't able to make the trip from Albany to Portland and was given away.
Pipko's current guitar "Izzy" is The Sonora's replacement and can be heard on Double Agent. It's an Ibanez GRG131DX with black body and red pickguard.
Her bass guitar "Arceme" is a jewel blue Ibanez GSR200 that she has owned for many years and used in previous musical projects. It makes an appearance on nearly every song – with notable exceptions being Impostor and Trapped (both of which feature guest artist Romart on bass guitar) and Digital Girl (which uses a synth bass instead). It is usually used in conjunction with a SansAmp Programmable Bass Driver DI.
Free To Be Me features yet another guitar, a Paranormal Baritone Cabronita Telecaster by Squier. This baritone guitar is tuned to B standard and has a lovely, dark tone that compliments Izzy well.
Pipko generally prefers the flexibility of working with virtual effects and amps rather than real ones. The early songs in Finding My Voice used a wide variety of (mostly free) amp, cabinet, and pedal simulatons. Later tracks in the album and Double Agent predominantly use BIAS Amp 2 and BIAS FX 2 for guitar tone. Virtual drums on the early songs are generally either MTPower Drumkit2 or SM Drums. Later tracks utilize EZDrummer 2, especially the Alt-Rock pack. Pipko's primary DAW is Reaper, though she also occasionally uses FL Studio as well as a secondary DAW.